Yinka Olatunbosun reports on how women championed artistic expression in inmates during a three-day intensive art workshop held at Ikoyi Prison in Lagos
For visual artist, Clara Aden, born Elizabeth Omolara Adenugba, taking art out of the studio to unconventional places is one of the hallmarks of a socially-committed artist, so it was no surprise when she decided to embark on an art project for inmates in Nigerian prisons.
However, access to the prison would have been a hurdle if she had not met a like-minded person in Olusola Osibo, the head of psychological services at the Nigerian Prison Service, Ikoyi. Aden and Osibo would not have known they needed each other until their paths crossed recently.
The former is the Founding President, Beyond Borders Artists Association of Nigeria, who wanted to do a life-changing art project, while the latter needed a self-funded project to bring reforms to inmates at the prisons.
As we approached the prison's gates on the first day of the workshop, we realised that, screening on entry was not restricted to visitors. Even the staff are screened to ensure that no one carries any banned item. After ridding us of all bags, phones and camera, the prison guards walked us through an open field where inmates all turned, staring at us in wonder on the first day of the workshop.
Lawyers, prison pastors and missionaries are common sight but not this team with drawing and painting materials. Little did the warders at the prison know that Aden infused courage in some of her team mates, who were initially reluctant to go to the prisons.
Outside the hall, young men in their early 20s or late teens and a few others in their 40s and 50s looked worn: some in dirty, torn clothes walking around or sitting down with distressed looks on their faces. Washed clothes littered everywhere, from the flower beds to the floor, the trees and the prison walls. The sight was heart wrenching. While a few were well-dressed in ironed clothes and polished shoes, there was a larger population of scruffy-looking inmates milling around. That disparity, according to a prison source, comes from each individual's family support system.
"Get away from the window,'' barked Efe, a senior inmate who was registering participants inside the hall whilst scanning the windows for other inmates who might not be well-intentioned.
It wasn't long that the Head of Psychological Services Unit, Mrs. Olusola Osibo, a mother-figure for the inmates, joined the collective. She had collaborated with Aden on this project, which had been approved by her unit as it aligned with some of the unit's objectives.
Away from the art workshop, she revealed how she had started the same unit at the Kirikiri Maximum Prisons about 14years and six months ago, before she was redeployed to the Minimum Security Prisons in Ikoyi, where she has been working for two years.
"They need these programmes for their mental stability. Some of the programmes are designed for behavioral changes for those on short prison terms. They acquire skills to treat their maladjustments and to empower them. That's called occupational therapy,'' she said.
Of course, occupational therapy using art is widely believed to be effective in improving the emotional function of inmates. For young offenders, art therapy can equip them with basic life skills that can improve the chances of rehabilitation.
Osibo established the art and crafts sub-unit of the prison's psychological services. The unit has a collection of bead accessories such as clutch bags, belts, keyholders, necklaces and earrings made by inmates. The raw materials are mostly bought with funds from her personal purse. Apart from encouraging the inmates to create and exhibit their works, she also instituted a reward system for hard work, good conduct and display of exceptional talents.
"Efe has only been here for six months and he is the Headman,'' she revealed to her bewildered reporter-guest. Efe had such control over the other inmates that it was difficult to believe that he is actually one of them.
Although Osibo said that the entertainment unit is vibrant, it was discovered that the situation typified that of "too many MCs, not enough mics'', as the number of musically talented inmates outweighed the available instruments. The keyboard, just as the prison television, is just an installation, no longer in use.
THISDAY investigation revealed that some of the inmates are in prison custody for charges of murder, armed robbery, stealing, financial fraud and debts sometimes less than N50,000. Regardless, a lot happens behind the bars to cause depression to a new inmate and some of these may not be known to the prison authorities. There are over 50 cells in the prison and each cell, according to an inmate has between 60 and 100 inmates. Not every inmate has a bed.
Another source at the prison revealed that on arrival at the prisons, inmates experience an initiation night called, "Nara'' where the new inmate is beaten by other inmates severely and made to eat some faeces.
The prison food is prepared well to make the inmate appreciate the value of freedom. There is "Sapa'', soup made with soya beans instead of egusi with little bitter leaf to eat with eba. Also, it is normal to find stones in rice and beans. For us, part of the experience was to share in the special prison food, jollof rice and chicken on the last day.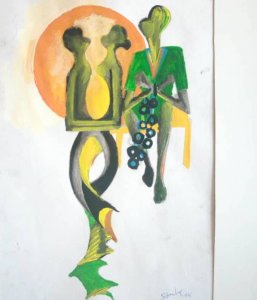 A painting by Nature titled, "African Beauty"
A glance through the window to the cell opposite was inevitable during the workshop. An inmate tucked his hand into his boxers and dug in deeper till it was uncomfortable watch and then brought out some money to buy some snacks. Apparently, the underwear is the safest place to keep some money in the cell.
On the last day, some of the inmates felt more comfortable to talk about their personal thoughts expressed in their works with this reporter. One of them, from a royal family, has been an inmate for five years. Called the Prince, he made a painting of a man with broken shackles to depict freedom and another depicting the jam sessions at the prison.
"Prison has inspired me. Some suspects never had this opportunity, but if you can make it to prison, your life can be reformed. If I had been killed before getting here, I wouldn't have had this opportunity,'' said the Prince, who was recently voted as the disciplinary officer by other inmates.
Before his imprisonment, he had studied architecture at a university in Houston, Texas, married with children. He is now divorced.
Another inmate, Stanley Onuoha, 52, used to trade in art and had sold artworks to galleries at the international airport and five-star hotels. But he thought it was a stressful job at that time and relocated from Lagos to Abia state where he started working at a construction firm.
He has been remanded in prison for almost a year before he could connect with his family, about a month ago. Nobody visits him.
"The churches bring food, medical aid, and bread to all the inmates about 3969 of us. It is art that gives me joy even without money. It gives me the means to express myself,'' he said while showing this reporter a painting depicting a man in prison who was imagining that his wife is having a love affair. He is one of the top three finalists at the exhibition.
The inmate who signs his works with the name, "Nature'' is a quiet yet prolific illustrator. He is one of the top three finalists at the exhibition with an astonishing talent. With the work titled, "Lighthouse'', he offers a ray of hope while another painting of his titled, "African Beauty'' was inspired by his mother's struggles to get him out of prison.
"I had been beaten many times as child by my parents for using my exercise books to draw. Right now, art makes me happy and I can show my family that I did something worthwhile while in prison,'' he said.
The third finalist, a sailor by profession, KabiruAdeyemi got into prison in 2016. He dedicated his painting, "Beauty of a Woman'' to his wife who visits him every month.
In retrospect, Aden remarked that the prison project was initiated when one of the Beyond Border artists, Ogunlesi revealed that he had been at a correctional facility 10 years ago and that an art workshop like this had changed his life for good.
Aden, a mother of four, described her experience at the prison as fulfilling inspite of the challenges of her being a woman working with inmates with misdemeanors. She made an illustration with one of the inmates as her model to depict life behind the bars.
"I wanted to be outside the hall for the live art demonstration but the prison warden warned me that they have limited security outside the hall. I have a free mind, I believe that in every bad person, there will be something good. I heard a lot of raunchy comments from the inmates but I concentrated on the work,'' said Aden.
In preparation for the closing ceremony and exhibition, the hall was decorated by an inmate named Uche. A rousing acapella song titled, "Thank you'' was performed by an inmate called Edward while another, Isioma delivered a well-paced acoustic song, "We Love You'' in appreciation of the workshop facilitators.
Tolu Ogunsakin, the Deputy Comptroller in Charge of the prisons, who was represented by SP Olenloa, offered words of encouragement to the inmates and the workshop facilitators. He referred to the words on the wall as a constant reminder for inmates dealing with a broken spirit. The words read: I'm in prison but my heart and mind are free.''
"I want to commend the inmates for their willingness to participate. This programme is not a jamboree. Let's develop our inner eye to value our art so that others in turn can value it,'' he said.
He also commended Osibo and Aden on this prison project, presenting certificates and art materials to the top three finalists. Invariably, these women have deconstructed the societal stereotype of women as victims by being the heroines of this prison project.